Oshkosh Antenna & Satellite Services is your TV reception specialist serving Oshkosh, the Fox River Valley and Northeast Wisconsin for over 30 years. We offer real competition to cable with a number of products and services including the All Digital ECONOMY HDTV service, Satellite TV service from both DISH NETWORK and DIRECTV, Satellite Internet services from WILD BLUE, and of course FREE TV with the use a Digital HD Antenna.

Oshkosh Antenna & Satellite Services provides Sales/Service/Installation to many Northeast Wisconsin areas including Oshkosh, Winneconne, Omro, Van Dyne, North Fond du Lac, Neenah/Menasha, Appleton, Kaukauna, Depere, and Green Bay. Give us a call at
920-233-6509 or Toll Free at 1-877-233-6509 to find out what solutions are right for you.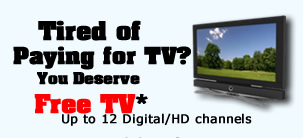 Our HD antennas receive 12 channels with no monthly service charges, including:
WBAY 2.1 HD (ABC)
WBAY 2.2 24 hour weather
WBAY 2.3 Retro Television Network (RTN)
WFRV 5.1 HD (CBS)
WLUK 11.1 HD (FOX)
WIWB 14.1 HD (The CW)
WGBA 26.1 HD (NBC)
MeTV 26.2
WACY 32.1 (My New 32)
WPNE 38.1 HD
Wisconsin Channel 38.2 (PBS)
Create 38.3

Our Showroom are by appointment only.


Showroom Location:
4060 State Road 21
Oshkosh WI, 54904